Thanksgiving Day Celebration in Canada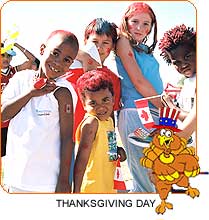 People of Canada celebrate Thanksgiving on the second Monday in the month of October every year. It is celebrated to thank the Lord Almighty for a bountiful harvest. America however celebrates thanksgiving on the fourth Thursday of November every year. The reason behind the difference is geographical; autumn season starts earlier in Canada than in America.
History of First Canadian Thanksgiving
The first Canadian thanksgiving was celebrated on 15th April 1872 to thank the recovery of King Edward VII from serious illness. The next thanksgiving was celebrated after a few years in 1879 on a Thursday.
Canada later, had a turbulent time deciding the day of national Thanksgiving. Thanksgiving was celebrated on a Thursday in November between 1879 and 1898. It was later celebrated on a Thursday in October between 1899 and 1904. Thereafter, it was celebrated on a Monday in the month of October. This was between the period of 1908-1921.
In later years, thanksgiving came to be celebrated on 'Armistice Day'. This was however, amended in 1931.
Finally on January 31, 1957, Parliament announced the second Monday in the month of October as the official 'Thanksgiving Day'. It was declared as "a day of general Thanksgiving to Almighty God for the bountiful harvest with which Canada has been blessed."
Canadian Thanksgiving Celebration
The thanksgiving celebrations include parades, customary 'family feast' and 'turkey'. It is a time for sharing, loving and family reunions. The central idea behind the celebration is to be thankful for the past harvest and praying for the coming year.