Thanksgiving Day Celebration in Korea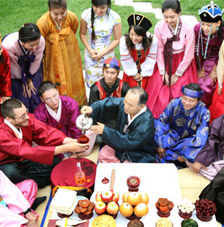 Chu Suk is a popular Korean Festival during the harvest season. The festival is also celebrated as a mark of respect to elders. Families visit their ancestral properties in home towns. It is a time for feasting and happiness for Koreans. Offerings are made of newly harvested foods. Songp'yon, crescent-shaped rice cakes stuffed with sesame seeds, chestnut paste or beans, are a Chu Suk favorite.
Koreans hold memorial services at the grave sites of the elderly. Kang Kang Sue Wol Lae, a traditional ceremony is observed a night before Chu Suk. Womenfolk gather in circles and sing songs to mark the festival. It is a time to be thankful to God and each other.
Activities like archery, wrestling, singing competitions are a common feature of this Korean harvest festival.