Thanksgiving Day Cards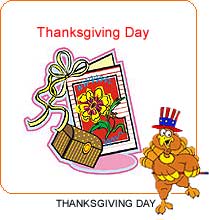 Thanks Giving day is here again and yes an excellent opportunity is here for the people to pay thanks to everyone. No wonder there are many people in one's life who deserve a small gesture of thanks for all their support, love, guidance and more. In fact Thanksgiving day is an excellent day for everyone to pay thanks to their lord who is the creator of the world and every reason of happiness and for granting this precious life.
Thanksgiving Day is an opportunity for us to express our sincerest gratitude to people who love and care for us. One of the most preferred and appreciated way of expressing gratitude is to say it through a beautiful Thanksgiving Day Card. While there are lot of Thanksgiving cards available in cards shop, you may also make the card yourself. The recipient will be touched to receive a handmade card and will be thankful to you!!
To Whom Should You Send a Thanksgiving Card?
A Thanksgiving Card should be sent to everyone who has helped you in some way of the other. Also remember to thank all people who love you and care for you. You should go ahead and send a Thanksgiving Greeting to your parents, grandparents, siblings and other members of the family. In your workplace you may present Thanksgiving card to your business partners, colleagues, seniors and subordinates. Besides, Thanksgiving Greetings could also be given to neighbours, teachers, doctor, lawyers or any other social acquaintance who has helped you in improving the quality of your life. Remember Thanksgiving Card is all about bringing a smile on each of these persons face with a genuine expression of your admiration for them.
Patterns in Thanksgiving Day Cards
Thanksgiving Greeting Cards are usually adorned with traditional Thanksgiving Day symbols like wreath, turkey, cornucopia, pumpkin etc. Images of fruits and flowers are also used to symbolize happiness and prosperity associated with harvest festival. Sometimes a simple 'Thank You' is printed to depict the feeling of gratitude felt by the sender.
Thanksgiving Day E-Cards
In present times, animated Thanksgiving E cards have become a popular way of sending Thanksgiving Greeting to loved ones. Large number of E-cards site offer a beautiful range of free thanksgiving greetings. This makes e-cards a convenient and cost effective method of sending Thanksgiving Greetings to loved ones, especially those staying in different cities and country.
Planning for a Thanksgiving gift? If yes then what else can be much better way to express your gesture of thanks then by gifting a handmade greeting card to your loved ones to whom you want to express your gratitude of Thanks? Well nothing, thus here are some creative suggestions to say Thanks to dear ones with a beautiful handmade Thanksgiving Greeting card…