Other harvest related festival in India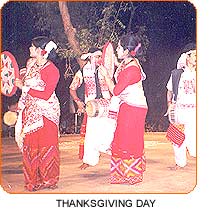 India is an agrarian society with more than 70% of Indian population depending on agriculture for their living. So, it is not surprising that India celebrates a number of harvest festivals in various regions. All the harvest festivals are Indian equivalents of the famous Thanksgiving festival, celebrated all over the world with pomp and show. Indian harvest festivals are also a time for communal thanksgiving, being grateful to God for all the material possessions. Though these festivals are not declared as national holidays, but they are declared as state holidays in their particular regions.
The festival is celebrated with immense gay and pleasure, Bhangra and Gidda (folk dances of Punjab) are performed everywhere. Bonfires, dancing, community dinners are a common sight during the celebration. Lighting bonfire is symbolic of prayers offered to Agni for bountiful crops and prosperity. The day is marked with thorough merry making and joy among people. Lohri is much more than a festival, it is a way of life for people in the state of Punjab.